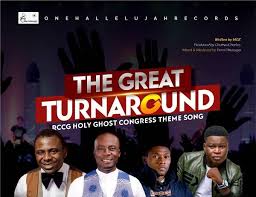 RCCG owned Label, One Hallelujah Records releases "The Great Turn Around" featuring label artistes; Femi Okunuga, MOZ, Michael Akingbala, and Tosin Bee. The new track serves as the official theme song for the 2019 RCCG Holy Ghost Congress.
Written by MOZ "Man of Zion" and produced by Chukwu Charles, "The Great Turn Around" aligns with messages and intentions of the Rccg general overseer, Pastor E.A Adeboye, as the year 2019 draws an end. The song comes with a message of hope and inspires faith in God whom alone can cause a great turn around in the life of any individual.
The annual RCCG Holy Ghost Congress is a week-long spiritual gathering set to commence Dec. 9th – December 14th, 2019 at Redemption Camp New Auditorium Shimawa, Ogun State.
The new track is mixed and mastered by Femi Okunuga for Finji studio. Listen Below;
Lyrics: The Great Turn Around By One Hallelujah Records
Chant:
Ohohohohohohoh
Verse:
My life has turned around for good
All things in me have become new
Jesus has won the victory
He came and changed my story
From sickness to health
Poverty to wealth
He turned it around for me
From defeat to victory
The enemy is history
He turned it around for me
From sorrow to joy
He gave me a song
He turned it around for me
From weakness to strength
He is my defence
He turned it around for me
Chorus:
I declare a great turn around for good
In my life
(Great Turn Around For Good)
I receive a great turn around for good
In Jesus name
(Great Turn Around For Good)
All things are turning around for my good
(Turning Around For My Good)
All things are turning around for my good
(Turning Around For My Good)
All things are turning around for my good
(Turning Around For My Good)
The great turn around
(The Great Turn Around)
Chant:
Ohohohohohohoh